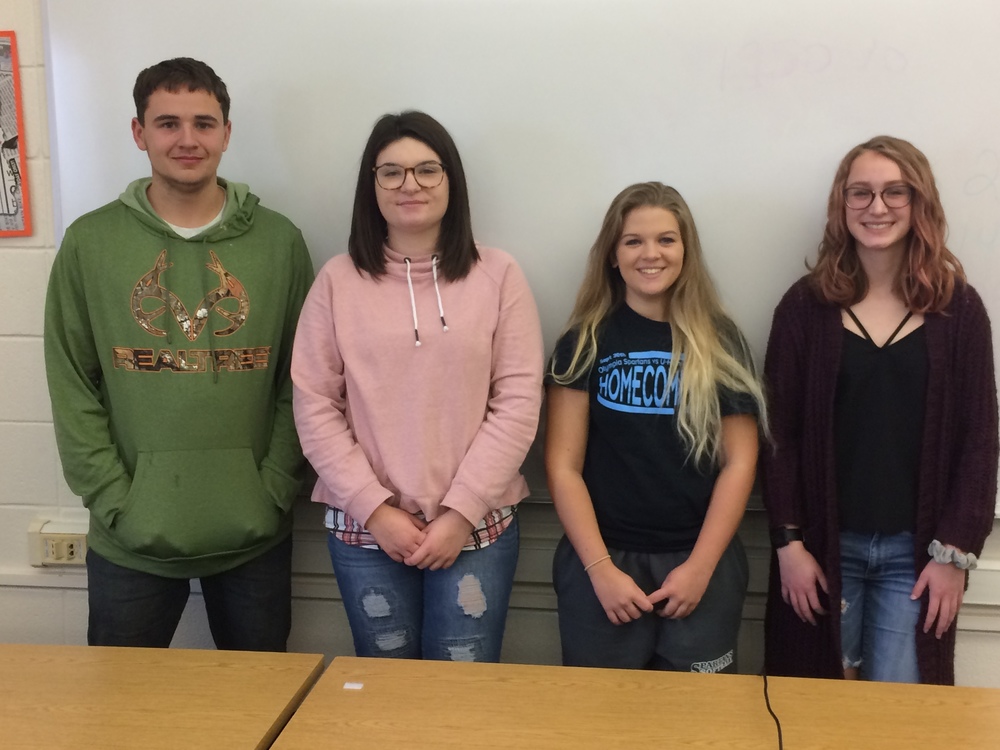 OHS Internship Program
Connie Schroeder
Friday, December 07, 2018
Olympia High School began offering an Internship opportunity for junior and senior students this school year. Student interns report to their internship site during 1st block or 5th block, depending on when it fits better within their schedule. This gives students first-hand knowledge of a career they are interested in pursuing. In addition, this experience can be very helpful when applying for scholarships and internships during college. This semester, Olympia had 4 interns--Dwayne Hancock, Carlee Streenz, Jaden Eilts, and Grace Litwiller.
Dwayne is interested in an Ag-related career and interned at Blue Monarch Garden Works in Shirley. He did a variety of activities including planting and caring for perennials and annuals, tilling, soil testing, and maintaining equipment. That internship ended in November with the change in the weather. He is now interning with Olympia's Ag teacher, Mr. Hoffman, as the Greenhouse Manager.
Carlee will pursue a degree in elementary education next fall. She worked with Mrs. Jackson's first grade class at Oly North. She worked individually and in groups with the students and led the students through many activities. She will be entering her college curriculum with much more confidence in her skills as a teacher.
Jaden wants to pursue a degree in physical therapy so she interned at the Hopedale Wellness Center with the physical therapists there. As with any medical profession, anyone without the proper training is not allowed to treat patients. However, she was able to see how a physical therapist treats patients of various ages with various types of injuries or ailments. Physical therapy is typically a 7-year program so Jaden will enter college knowing that this is truly the career she wants to pursue.
Grace is interested in pursuing a career in business. She interned at Ely's Coffee Shop in Tremont. Even though Grace works there as a barista, during her internship time, the owners provided Grace with opportunities to perform activities related to operating a business. Grace helped with promotions, assisted in preparing for large events, learned the process of ordering and inventory, and organized a photo shoot. There are so many other things Grace learned that it is difficult to summarize it all.
All of the first semester interns had great experiences. We are looking for many more students to take advantage of this great opportunity. It is not too late to get into the program for next semester. So far we have a student interning with nurses at the Hopedale Medical Complex and a student interning with Olympia's Technology Department. In January students will be selecting classes for next year. Anyone interested or wanting more information can contact Lisa Steve at lisa.steve@olympia.org or Connie Schroeder at connie.schroeder@olympia.org