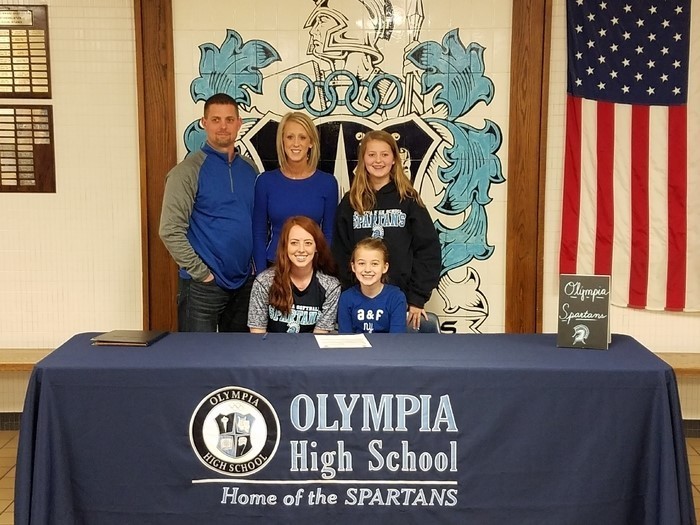 Alexis Finchum Commits to Play Softball at Illinois Central College
By Kyle Gaither, OHS Torch reporter
Monday, February 25, 2019
STANFORD -- "I think it will be challenging, but I am up for the task," said Alexis Finchum, Olympia High School senior, regarding her commitment to play softball for Illinois Central College.
Finchum committed to play for the Cougars on February 8th in the commons area of Olympia High School. She was joined by her friends, family, teammates, current softball coach Courtney Hoffman, and future softball coach Heather Doty.
"Heather Doty, the ICC head coach, is an amazing person and coach. I knew that I wanted to play for someone like that," said Finchum, when asked why ICC appealed to her.
Alexis is the starting catcher for the Spartans and has been on varsity since she was a sophomore. She is a very consistent hitter and is expected to hit three, four, or five in the lineup for the Spartans this spring.
"Behind the plate, she's always consistent. There are hardly any passed balls, and she'll throw runners out, so that's a position I haven't had to worry about the past few years," says current coach Courtney Hoffman. Coach Hoffman also says, "I think she'll fit in well with the ICC softball team since she is the perfect player for that system."
"Better competition, and all players with the same skill level competing for a spot, and to keep that spot will be a good athletic challenge for Alexis. Balancing free time with studying will be a good academic challenge for Alexis, as well," said Brian Finchum, Alexis' father, when asked about how ICC will test her. Also, Mr. Finchum is in agreement with Coach Hoffman about how good of a fit ICC is for Alexis.